Day Trip to Lake Baikal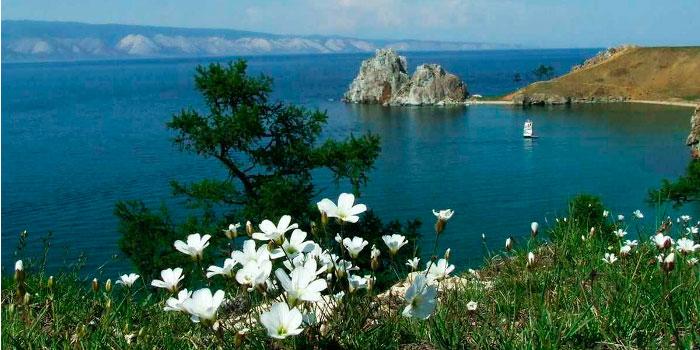 A guided tour to Listvyanka settlement, a tiny village on the western shore of Lake Baikal, 70 km from Irkutsk. The road from Irkutsk to Lake Baikal goes through picturesque taiga-forest. The word "Baikal" comes from the Turkic language and originally means "a wealthy lake". It is wealthy indeed, as its 1,640 meters depth it is the deepest and largest lake on our planet. It is also one of the cleanest ones as its transparent water is richly saturated with oxygen. We will visit the Museum of Lake Baikal (Limnological Museum) and learn about the origin and wild life of the lake.
Baikal
is one of those rare spots on the earth where nature has still remained genuine and untouched. The magnificent landscapes – the lake is surrounded by high mountain chains - and the unique clarity of the water made lake Baikal famous as one of the biggest nature wonders of the world. The Siberian forests - dense taiga and sparse tundra - are bordered here with the Asian semi-deserts and stony steppes. This mixture has contributed to the unique flora and fauna world of the lake: you can find here more than 2,600 animal species and 1 thousand plants, 85% of which exist only at Baikal.
The hydrology of the lake is also interesting: more than 300 rivers flow into the lake while only one, the Angara River, starts from Baikal. The North- and South-Baikal coasts have many warm thermal springs and the water temperature along the coast in summer reaches 16-17C. The average water temperature is about 4C. In winter the "Siberian Sea" is covered with a thick (up to 110cm) layer of ice. During the end of June – beginning of July every midnight at Baikal you can enjoy the magic view of a moon rainbow, a unique phenomenon caused by the small water particles lifted up from the lake surface by the pull of the moon.
Lake Baikal has always been one of the most sacred places in Asia. For thousands of years, people believed in the powerful energy of the lake and came here to seek nature's assistance. Everywhere along the shore you can see today stone carvings and ruins of these traditional Baikal ritual monuments.