St. Petersburg Philharmonic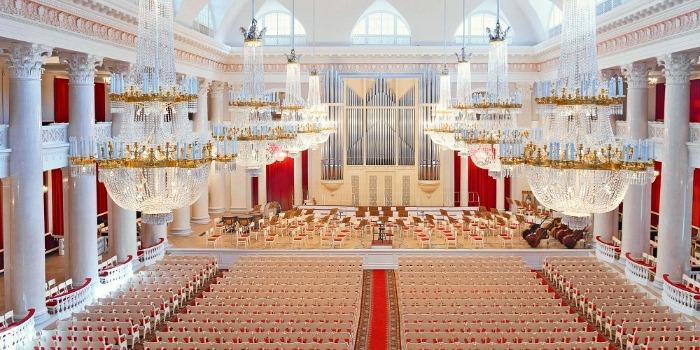 Saint Petersburg Academic Philharmonic named after D. D. Shostakovich is the oldest in Russia, and is two hundred years old. The history of the Philharmonic goes back to 1802 when Saint Petersburg Philharmonic Society, the first in Europe, was created. Nowadays Saint Petersburg Philharmonic consists of the two concert halls, famous all over the world for wonderful acoustics and beautiful interiors. The Philharmonic concerts are held in the Grand Hall, which is the former building of the Assembly of the Noble, and in the Small Hall, which is the former Engelgardt House.
Architect Jacquot designed the Grand Hall of the Philharmonic in 1839, and famous Rossi constructed the facade. The Grand Hall can seat more than 1,500 spectators. From the 40s of the 19th century the hall has been the centre of the music life of Saint Petersburg. Today the Grand Hall of Saint Petersburg Philharmonic is considered to be one of the best concert halls in Europe, and is considered to be very honourable to perform on its stage.
The Small Hall of the Philharmonic bears the name of composer Mikhail Glinka. It is located in the old mansion on Nevsky Prospect. It is the place for concerts, dedicated to the city anniversaries, jubilees and important dates, as well as music evenings, international festivals and contests.