About Overnight Trains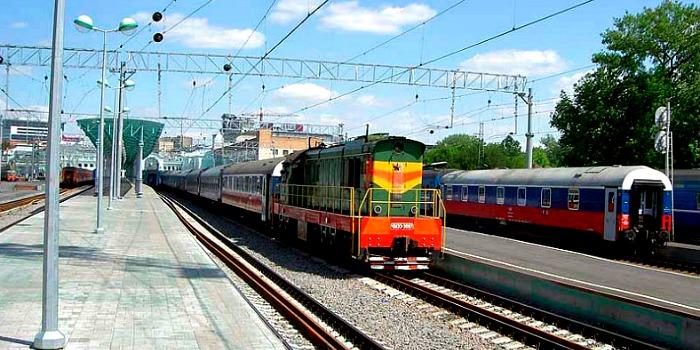 On all our tours including
Trans-Siberian journeys
we use the best available trains, so called "Branded Train" ("Firmenniy Train" in Russian). However, these trains may not be operating on all legs of your journey, in this case we will purchase the best available alternative. Branded trains offer higher standards of service, comfort and additional services. Each train has its own name and unique design. Most trains are air-conditioned and have electric heating and TVs. Train attendants working on international routes have basic command of English, German or French.
Carriages usually contain nine compartments and are served by two attendants (conductors). Clean linen, including sheets, towels, blankets and pillows, is provided for each berth. The compartments also have personal reading lights, a big window and a small table. There is ample storage space for luggage within the compartment. The 2 bottom bunks can be lifted for access to storage. There are also overhead racks for additional luggage.
There are facilities in every carriage for hot water for drinks, and a basic but adequate bathroom at each end of each carriage. The bathroom contains a sink with running water and a toilet; most trains do not have shower facilities. Hot water is always available. Cabins can be locked from the inside, and attendants keep a very close eye on what is happening in their carriage. As a result, trains are one of the safest means of travel within our destinations.
TRAVEL CLASSES
On our tours we use comfortable 4 berth compartments; however upgraded 2 berth compartments are also available. There is little difference between 1st and 2nd class other than the number of berths in the compartments, and slightly more space in 1st class.
2nd class cabin
Two lower and two upper berths. Sometimes due to high demand it's impossible to order lower berths only. Upper berths may be preferred by some passengers as they are used only by berth holders (day and night) and nobody can disturb you during your rail journey while lower berths may be used as common place for other passengers during the day. 2nd class also provides more opportunity for interaction with other travellers. Two bathrooms (WC and wash basin) per carriage, located at both ends of corridor.
1st class cabin
Both berths are at the lower level. Two bathrooms (WC and wash basin) per carriage, located at both ends of corridor. 1st class cabin will be suitable for those who prefer comfortable and private place for travelling. But the price will be higher than the price of a 2nd class cabin.
Note on 1 class travel
Please note if 1st class tickets are not available on a particular leg of your journey (this can be due to a variety of reasons: tickets sold out, no 1st class carriages available, etc.) we will buy out the whole four-berth compartment for two of you (three tickets if you travel alone) to ensure your privacy and comfort.
Train 306 / 305 Irkutsk-Ulan Bator: 1st class availability is very limited, the train normally has only one first class carriage (not always available, depends on operational decisions of the Russian / Mongolian railways) and four 2nd class carriages. In high season more 2nd class carriages are added to the train.
Train 24 / 23 Ulan-Bator – Beijing: 1st class compartments on this train have one lower and one upper berth. Please make sure either you or your travel companion will be comfortable when occupying an upper berth, otherwise opt for a second class on this leg of the journey or request a 4 berth compartment buyout (this options is more expensive).
Photos
TRAIN SCHEDULES IN RUSSIA
Please note, the Russian railways system operates according to Moscow time, so your train tickets will show arrival and departure time according to Moscow and time difference can be as big as seven hours. In our final joining instructions we always indicate local time to avoid any confusions, please ask your local guide for reconfirmation in case of any doubts.
Time difference in Russia
Moscow – Kazan
+0 hours
Moscow – Perm
+2 hours
Moscow – Yekaterinburg
+2 hours
Moscow – Novosibirsk
+4 hours
Moscow – Tomsk
+4 hours
Moscow – Irkutsk
+5 hours
Moscow – Ulan-Ude
+5 hours
Moscow – Khabarovsk
+7 hours
Moscow – Vladivostok
+7 hours