Tsar's Gold Private Train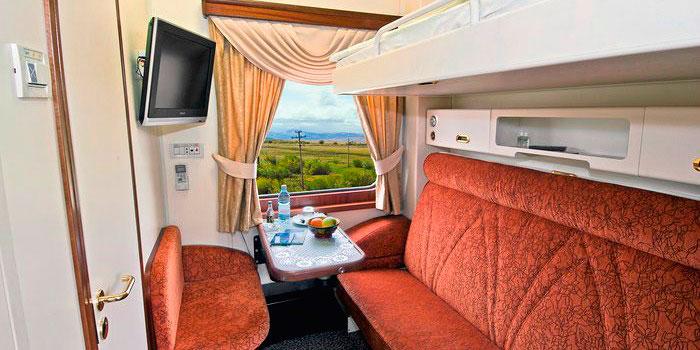 Tsar's Gold private train has been exclusively designed for tourist travel on the Trans-Mongolian railway. This is not a commuter train, rather a luxurious transportation option for holiday-makers.
There are restaurant carriages on this train which are also used for lectures and events. You are also welcome to come to a restaurant during your spare time to meet your friends, have a chat or play games. Unfortunately, the train does not have a lounge or a bar. The group guides will advise the clients which restaurant car is available. There is also doctor service onboard.
Tsar's Gold private train offers six different compartment categories ranging from the standard "budget" category with shared facilities to the VIP compartment featuring en-suite facilities and all modern amenities which can be found in a hotel. Please see below for detailed description of each compartment category on the private train.
| | |
| --- | --- |
| | This is a standard 2nd class compartment. In the standard category there are nine compartments per carriage, each for four guests. There are four berths in the compartment, two lower and two upper. Berth size: 27.55 inches x 74.80 inches (70×190cm). In the middle, below the window, you will find a table. Combined toilet / lavatory compartments are located at each end of the carriage. |

---
| | |
| --- | --- |
| | Classic category can be compared to 1st class compartments. In the classic category there are 9 compartments per carriage. A compartment is shared by two guests. There are two lower berths in the compartment. Berth size approximately: 27 inches x 75 inches (70 × 190 cm). The compartment also features a table under the window. Combined toilet / lavatory compartments are located at each end of the carriage. In every second carriage there is a shower compartment. |
| Measures: | |
Compartment height: 100.4 inches (255 cm)
Compartment depth: 74.8 inches (190 cm)
Compartment width: 71.6 inches (182 cm)
Bed length: 73.6 inches (187 cm)
Bed width: 26.8 inches (68 cm)
Space between the beds: 16.5 inches (42 cm)
Luggage case under beds: height 14.2 inches (36 cm); width 18.5 inches (47 cm); depth 25.6 inches (65 cm)
Luggage case above door: height 12.2 inches (31 cm); width 58.7 inches (149 cm); depth 21.7 inches (55 cm)

| | |
| --- | --- |
| | Superior compartment is similar to a classic one. The superior compartments have recently been refurbished and offer better inner decoration. There are 9 compartments in the superior category carriage. A compartment is shared by two guests. There are two lower berths in the compartment. Berth size approximately: 27.5 inches x 75 inches (70 × 190 cm) and arranged facing each other. There is also a table under the window. Combined toilet / lavatory compartments are located at each end of this category's carriages. In every second carriage there is a shower compartment. |
| Measures: | |
Compartment height: 100.4 inches (255 cm)
Compartment depth: 74.8 inches (190 cm)
Compartment width: 71.7 inches (182 cm)
Bed length: 72.8 inches (185 cm)
Bed width: 26.8 inches (68 cm)
Space between the beds: 16.5 inches (42 cm)
Luggage case under beds: height 13.8 inches (35 cm); width 18.50 inches (47 cm); depth 60.2 inches (153 cm)
Luggage case above door: height 12.6 inches (32 cm); width 62.9 inches (160 cm); depth 26.4 inches (67 cm)

| | |
| --- | --- |
| | If you want to travel like the red tsars, the nostalgic comfort category is a must. The newly built carriages are nostalgically furnished, but provide modern amenities. You'll be travelling in an ambiance, in which even former Soviet leaders would have felt at home, though enjoying all the comfort of the 21st century. Each of these rolling hotel rooms offers two large berths (approximately 31.5 inches x 73 inches (80 × 185 cm)) and an armchair. Two compartments share one small lavatory with wash basin and shower facility between them. Combined toilet / lavatory compartments are located at each end of this category carriage. |
| Measures: | |
Corridor width 33.46 inches (85cm)
Corridor height 81.49 inches (207 cm)
Bed length: 73.6 inches (187 cm)
Bed width: 31.5 inches (80 cm)
Luggage case above the door: width 63 inches (160 cm); height 11.8 inches (30 cm); depth 23.6 inches (60 cm)

| | |
| --- | --- |
| | The "Bolshoi" category is equipped with two beds, one of which measures 43.30 inches x 74.80 inches (1.10 m x 1.90 m), even providing room for two people if required. Furthermore, the 219.29 inches² (5.57 m²) large compartments offer a cosy seating bench, a table and a wardrobe. The compartment's exclusive en suite bathroom does not only contain a washing basin, WC and shower, but also enough storage space for your personal belongings. Each car of the Bolshoi category has only six compartments. |
| Measures: | |
Compartment height: 100.4 inches (255 cm)
Compartment depth: 79.9 inches (203 cm)
Compartment width: 70.1 inches (178 cm)
Bed 1 length: 72.4 inches (184 cm), width: 47.24 inches (120 cm)
Bed 2 length: 68.5 inches (174 cm), width: 31.5 inches (80 cm)
Small wardrobe: width 13.8 inches (35 cm); height 18.1 inches (46 cm); depth 33.5 inches (85 cm)
Big wardrobe: width 13.8 inches (35 cm); height 62.2 inches (158 cm); depth 33.5 inches (85 cm)

Luggage case above the door: width 46.5 inches (118 cm); height 8.7 inches (22 cm); depth 17.7 inches (45 cm)

| | |
| --- | --- |
| | The Bolshoi Platinum is the highest compartment category on the Tsar's Gold Private Train. It provides 7.15 m2 (77 sq. ft.) of space, even more than the Bolshoi compartment. The lower bed measures 120 × 184 cm / ca. 47.2 × 72.4 in., the upper 82 × 174 cm / ca. 32.3 × 68.5 in. Each compartment has a spacious clothes closet and its own en-suite facilities featuring a separate shower cabin. There are only five compartments of this category and offer space for a maximum of just 10 guests. |